Tutorial (Continued)
7. Ontofox use case demostrations:
Severasl use cases have selectively been chosen for Ontofox demos:
(1) Ontofox NCBI Taxonomy ontology term "NCBITaxon_9606" (Homo Sapiens or human):
More input information: top level NCBITaxon term 'Eukaryota', under OBI term 'organism' (target superclass).
Check out the Ontofox Input File and Output File. The input data can also be provided using the Ontofox web forms on the Ontofox home page.
A Protege screenshot display of the Ontofox output results: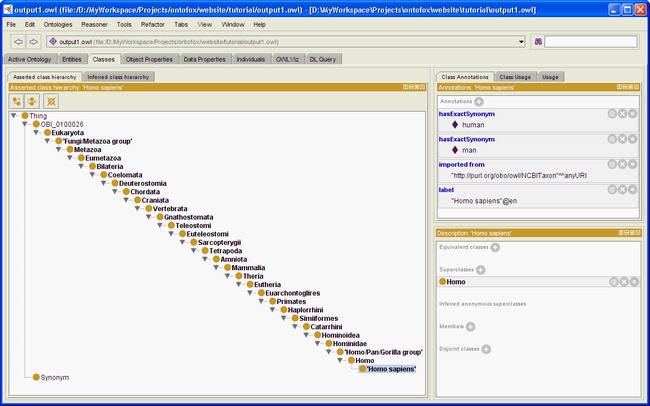 As shown above, there are 28 layers of superclasses for 'Homo sapiens' in the NCBITaxon ontology. Ontofox is able to automatically fetch all these superclasses and their annotations.
(2) Ontofox OBI ontology term "OBI_0100060" (cell culture):
Check out the Ontofox Input File and Output File:
A Protege screenshot display of the output results:
(3) Ontofox GO ontology term "GO:0043152" (induction of bacterial agglutination):
Check out the Ontofox Input File and Output File:
A Protege screenshot display of the output results: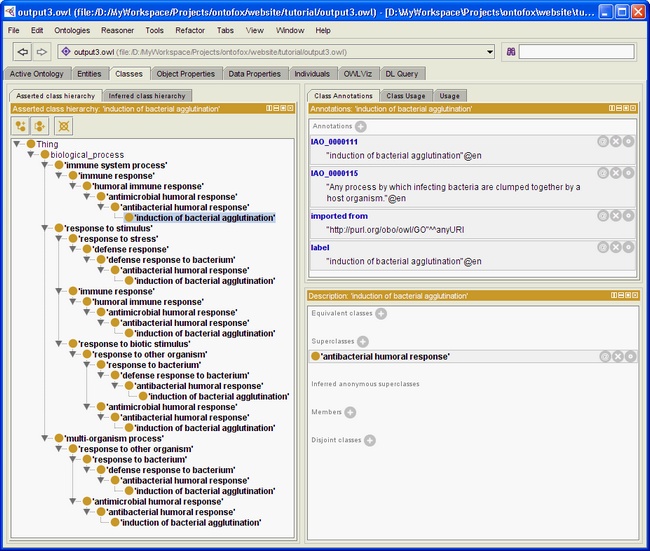 (4) Ontofox combination of OBI term"OBI_0100060" (cell culture) and NCBITaxon term "NCBITaxon_9606" (Homo Sapiens or human):
Check out the Ontofox Input File and Output File:
A Protege screenshot display of the output results: